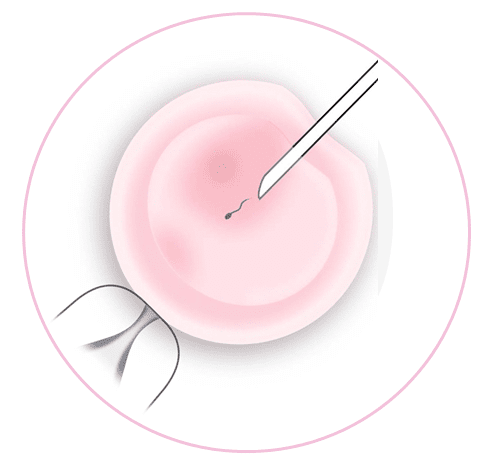 A PROTEIN WHICH IS FOUND IN THE MEMBRANE SURROUNDING THE EGG (HA PROTEIN) IS USED TO SELECT THE BEST SPERM ACCORDING TO HOW WELL THE SPERM BIND TO IT.
The more mature a sperm is the more likely it is to bind to HA protein. Research shows that sperm that bind have a lower probability of chromosomal abnormalities and higher DNA integrity. Sperm unsuitable for fertilisation lack specific protein receptors, and do not bind to the protein.
USING A MICROSCOPE, A MICRO-PIPETTE FIRST IMMOBILISES A SINGLE SPERM BY CUTTING ITS TAIL WITH ITS POINT. THE SPERMATOZOA IS THEN INJECTED INTO THE EGG CYTOPLASM.
When sperm concentration and motility are low and sperm are not well-formed, ICSI might be the only available procedure to fertilize an egg.