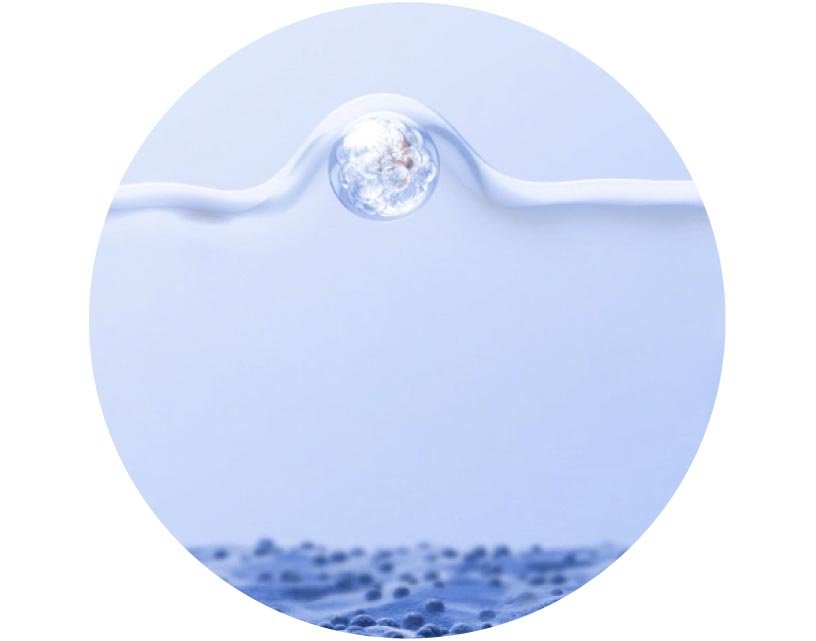 EmbryoGlue® contains a high concentration of implantation promoting protein, which is present in the follicular, oviductal and uterine fluids. Studies have shown that the concentration of this protein increases dramatically on the day of implantation and decreases to near normal levels by the next day, indicating that it is important for implantation.
EmbryoGlue® has the basic composition of a rich blastocyst culture medium and contains a high concentration of hyaluronan and recombinant human albumin. It is uniquely developed to mimic the conditions in the female uterus in order to help embryos implant after transfer.
One hour before embryo transfer, the embryos are placed in a medium enriched with EmbryoGlue to bind the substance to the embryos. Additionally, EmbryoGlue®  causes the embryo transfer medium to thicken, becoming more similar to uterine fluids. Researchers believe that the thickening of the medium improves its ability to mix with uterine fluids, which helps to prevent the embryo from drifting. Both the embryo and the wall of the womb have receptors for this protein. In this way it is thought that the EmbryoGlue® acts like an adhesive for the embryo as it implants in the wall of the womb.
EmbryoGlue®  appears to be beneficial for couples with a wide range of medical problems. Studies show that EmbryoGlue®  has helped many patients, including women of advanced maternal age and couples with repeated implantation failure after IVF. EmbryoGlue®  also increases pregnancy rates for couples with unexplained infertility.
DOES EMBRYOGLUE® WORK?
Researchers conducted several studies that confirm that EmbryoGlue® does, in fact, improve pregnancy rates in IVF. Researchers in one study in 2012 found that EmbryoGlue increased pregnancy rates in women by nearly 15 percent when controlling for other factors.
With such promising results in improving pregnancy, some couples may wonder whether there are any downsides to using EmbryoGlue®  during embryo transfer. However, none of the studies on the use of EmbryoGlue®  have shown that the substance harms the embryo in any way. In fact, use of EmbryoGlue® during embryo transfer appears to reduce the chances of ectopic pregnancy.
For couples undergoing IVF, it can be assumed that most, if not all, should ask their doctors about using EmbryoGlue® during embryo transfer to increase their treatment's effectiveness. Although using EmbryoGlue®  does not guarantee pregnancy, studies confirm that pregnancy chances significantly increase. With its low cost and safety for the embryo, there are no downsides to using EmbryoGlue during embryo transfer.